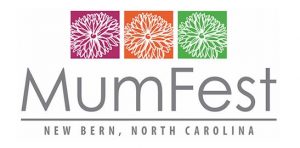 Check back with us in the Summer of 2018!

MumFest will be held October 12-14, 2018, in beautiful downtown New Bern!  Save the date!
Each year, the downtown Rotary Club of New Bern works with Swiss Bear, raising funds for local charities and city development efforts. Our role is selling the colorful and cheery banners that fly from the lamp posts with the MumFest logo and name of your business or family. You get the banner back after the event! It makes a wonderful business display to demonstrate your support and appreciation of these two organizations, the charities they serve, and continued efforts to grow and develop economic opportunities in New Bern.
We believe you will love the banner so much you will want to buy one each year.  Have a favorite business, maybe without funds to buy one?  Get a collection from regulars and surprise your business friend!  What a great way to support and thank a local business.
An alternative opportunity for support this year is to become a MUM SPONSOR for $300.00. This level provides a banner and recognition as a sponsor. Funds generated by MUM SPONSORS are used to beautify downtown New Bern with Mum plantings during the festival period. Contact the Swiss Bear for more information at 252-638-5781 or info@swissbear.org.