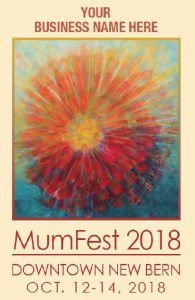 Save the date!
Follow this link for the Banner Application Form:
Dear Supporter:
The Swiss Bear Downtown Development Corp and The Rotary Club of New Bern have launched the MumFest'18 campaign.  We would like to have your participation.  You can reserve your banner for the MumFest'18 by completing the form on the back, enclosing a check for $185.00 made payable to ROTARY CLUB OF NEW BERN, and mailing it back to us at PO Box 818, New Bern, NC 28563-0818.  If possible please send by June 30, 2018. The deadline for submission of application and payment is July 15, 2018.
If you would like to submit payment through PayPal it is offered this year by accessing www.mumfest.com.  Go to Support and Rotary Banner Payment for more information.
Why participate?
Your name will be printed on both sides of the banner along with the MumFest '18 logo (example on application – follow this link for the Banner Application Form 2018 PDF(3)).  Banners will be hung on downtown New Bern lamp posts for several weeks prior to the MumFest, during the MumFest, and several weeks after the MumFest.  Your personalized banner will also be returned to you (see tentative schedule below). Having your name displayed beautifully for thousands to see gives you a valuable opportunity to show your support of community events and civic pride.
July 15                              Deadline for banner sales
End of September          Banners will be hung by Public Works
Oct 12-14                         MumFest '18
Middle of November     Banners taken down by Public Works
January 2019                  Banners given to Rotary to distribute back to supporters
An alternative opportunity for support this year is to become a MUM SPONSOR for $300.00.  This level provides a banner and recognition as a sponsor.  Contact the Swiss Bear for more information on sponsorship at 252-638-5781 or info@swissbear.org.Funds generated by MUM SPONSORS are used to beautify downtown New Bern with Mum plantings during the festival period.
If you have been a supporter in the past, we thank you for your continued support.
We look forward to you becoming a supporter of MumFest'18 and proudly displaying your personalized colorful banner.
If you have any questions, please contact us.
Thank you for your support!
Cordially yours,
Rotary MumFest'18 banner committee
Meloni Wray 252-636-6610; 704-473-8901  meluvs2sing@aol.com
 "Without community service, we would not have a strong quality of life…"  Dorothy Height
"We make a living by what we get, but we make a life by what we give." Winston Churchill