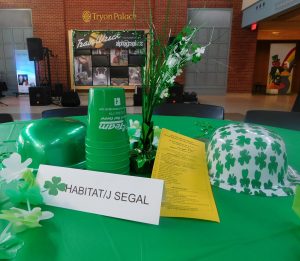 Sham-Rockin' 2022
Friday, March 11, 2022
6-10 pm
Tryon Palace's History Center
For information:
𝗜𝘁'𝘀 𝘁𝗶𝗺𝗲 𝘁𝗼 𝘀𝘁𝗮𝗿𝘁 𝗽𝗹𝗮𝗻𝗻𝗶𝗻𝗴 𝗳𝗼𝗿 𝗦𝗵𝗮𝗺-𝗥𝗼𝗰𝗸𝗶𝗻' 𝟮𝟬𝟮𝟮!
If you would like to be a sponsor or host a table at THE St. Patrick's Day event of the year, fill out the Commitment Form by following the link above and return it to the address listed on the form. If you have any questions, contact Drew Honeycutt at 252-675-2325!!
Donate items as swag to all of our 350 attendees!  Sham-Rockin' is a great way to get the word out about your business!  First, fill out the Donation Form listed above. Then, contact Joe Geiger at 517-204-2789 with your product ideas!
We will have a silent auction, so come prepared to grab some great items!
Or if you would like to donate items, contact Joe Geiger!
Entertainment is the I-42 Band featuring New Bern's own Bryan Mayer!
The Chelsea will serve a traditional Irish dinner. Freshwater Beer Co will provide wine and beer.
Wherever you go and whatever you do, may the luck of the Irish be with you!
Sham-Rockin' is the club's annual fundraiser to support local projects and programs like RCS, The Boys and Girls Club of New Bern, Backpack Blessings, Craven County Partners in Education, MERCI Clinic, and so much more.
The Rotary Club of New Bern is a civic organization that supports the local community through grants to area non-profits as well as organizes community service projects. The Rotary Club of New Bern is a part of Rotary International, which undertakes many humanitarian efforts throughout the world.
Thank you for your support of The Rotary Club of New Bern and our Sham-Rockin' event!