Join us!
Friday, March 10, 2023
at the
Tryon Palace's History Center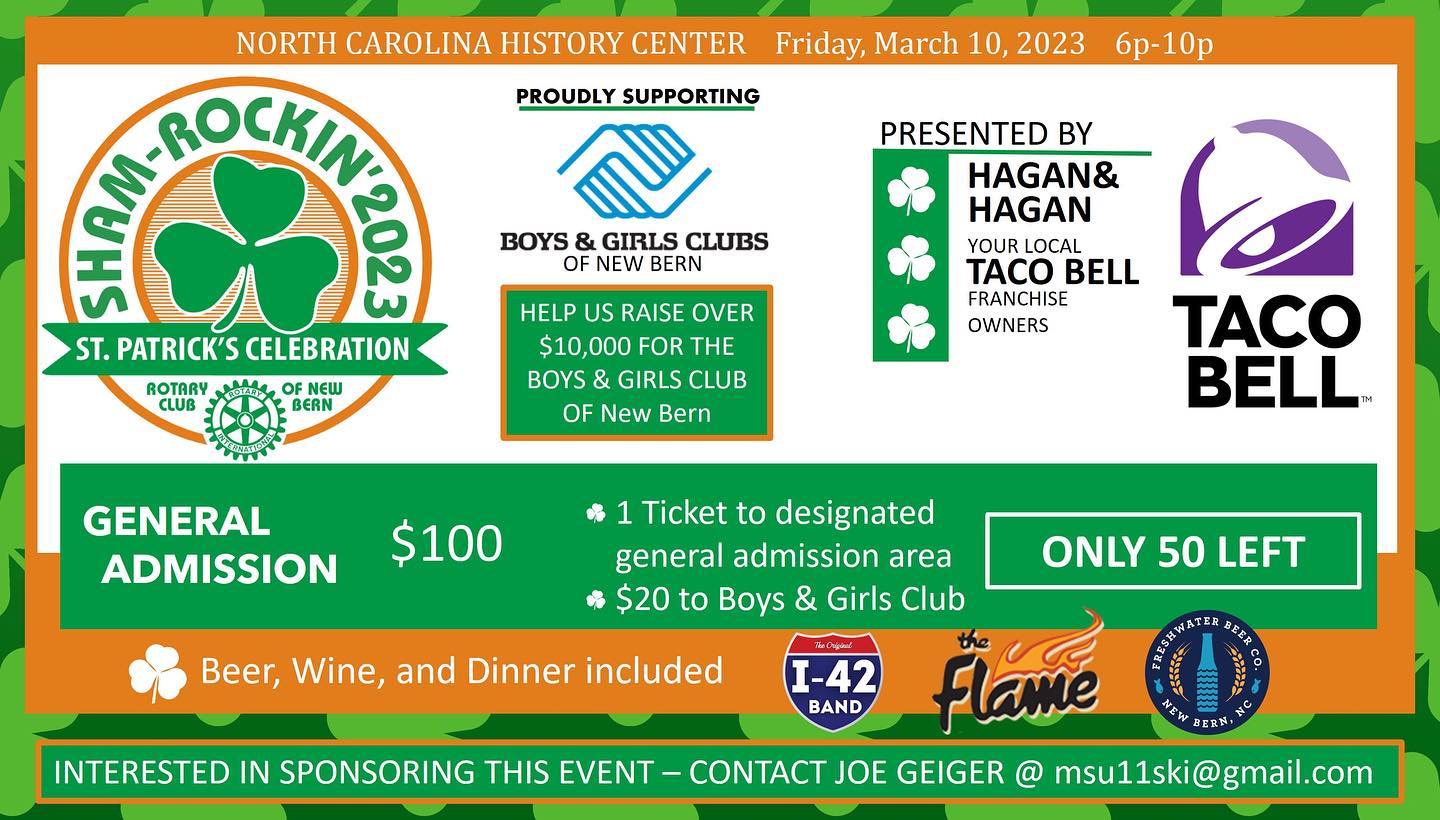 We're less than 1 month away from The Rotary Club of New Bern's biggest fundraiser of the year, ShamRockin'! We are thrilled to partner with Boys & Girls Clubs of the Coastal Plain for this event. There's a limited number of General Admission tickets left for purchase. To get your name on the general admission list, click the link below or visit the link in our bio.
from The Flame Catering and Banquet Center

from Freshwater Beer Co.

from I-42 Band
This is an event you don't want to miss!
https://forms.office.com/r/wTDxKmz0Rr
Gather your family and friends, get your green on, and join us for The Rotary Club of New Bern's Sham-Rockin' 2023, A St. Patrick's Celebration, Friday, March 10th! The event will be held at the beautiful North Carolina History Center, overlooking the Trent River.
Doors open at 6:00 pm and the Sham-Rockin' will continue until 10:00 pm. We will serve up the best corned beef and cabbage found in Eastern North Carolina from 6:00 – 7:30 pm and then dance the night away to the I-42 Band!
Sham-Rockin' is the club's annual fundraiser to support local projects and programs like RCS, The Boys and Girls Club of New Bern, Backpack Blessings, Craven County Partners in Education, MERCI Clinic, and so much more.
The Rotary Club of New Bern is a civic organization that supports the local community through grants to area non-profits as well as organizes community service projects. The Rotary Club of New Bern is a part of Rotary International, which undertakes many humanitarian efforts throughout the world.
Thank you for your support of The Rotary Club of New Bern and our Sham-Rockin' event!
******************************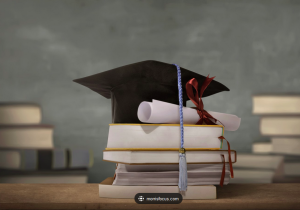 2023 Rotary College Scholarship Now Open
Click here for the New Bern Rotary Scholarship Foundation Application
We are pleased to announce that our club is offering a $16,000 scholarship to one outstanding local student wishing to pursue a college education. Instructions and the application form may be found below.  This award is payable at $4,000 annually for four years if the recipient continues to meet the guidelines of the foundation and maintains a "B" average.  Click here for the instruction letter for more information.  (The letter will download into your download library – press control J to view.)
Once completed, the application should then be printed.  Print at least two copies of the completed application, one for your records and one to submit to:
The Rotary Club of New Bern, Scholarship Foundation, PO Box 818 New Bern, NC  28563-0818
The deadline is April 15, 2023, at which time all requirements must be in the hands of the scholarship committee (see the Instructions for Applying letter for requirements).
Note:  The  Student Aid  Report  [SAR]  generated  through  a Federal Student Aid [FAFSA] application, including the EFC [Effective Family Contribution] and other pages that reflect the family's financial information on which the EFC was based) are required.
It is important to encourage your parents to prepare their income tax return for the previous year as soon as possible as this information is needed to complete this application. You need to submit your FAFSA application (by mail or on the internet) in order to have your SAR back in time for this scholarship application process.
******************************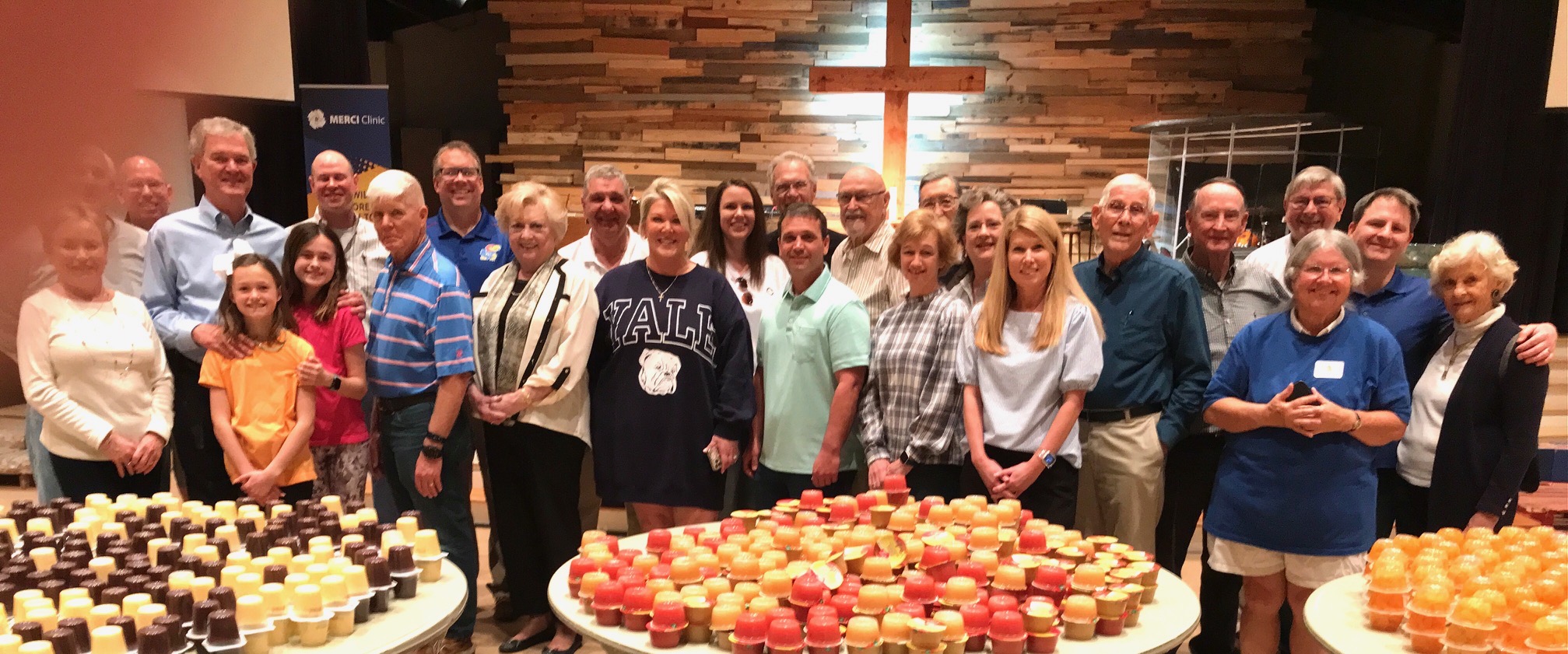 Thirty members of our Rotary Club had a great day on Tuesday, February 21st, putting together 432 food snack packages for children in area schools, playing a critical role in improving the overall health of our students. Providing healthy meals and snacks is particularly important for our students. For these students to live a healthy life, they need healthy snacks and meals at home. We are excited to participate with "Backpack Blessings" as volunteers and provide them with a new funding source with a designated $4,000 in the upcoming months. Nourished children are children ready to learn.
Thank you to everyone who came out and assisted!