A special reminder to keep the Rotary message visible, especially under Covid-19 restrictions. Please go to the New Bern Rotary Club Facebook page and do just two easy things:
1. Click "like" and,
2. Share.
You will multiply our Rotary message 100's of times.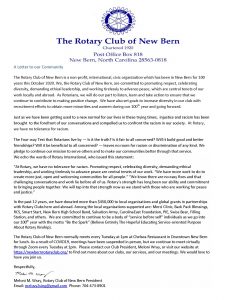 *****
We regretfully need to cancel our 100th Anniversary Gala scheduled for October 24, 2020. Due to lingering concerns of COVID-19 we do not want to take any risk of not being able to 100% guarantee that everyone would be safe on that day to celebrate with us. We will be planning to highlight The Rotary Club of New Bern's 100th Anniversary of being chartered throughout the 2020-21 Rotary year making sure everyone will be able to get to know us better. Ultimately, we hope to recruit new members and we all strive to live a life serving others and putting those in need before ourselves, "Service above Self." If anyone needs to contact us, please do.
Sincerely serving,
Meloni M. Wray, President 2020-21